October 19, 2019 • Classical Music of India
Artists:

Harsh Narayan (sarangi) & Ty Burhoe (tabla)
When:

Saturday October 19, 2019
Concert starts at 7 PM (doors open at 6:30 PM)
Where:

Tucson Osteopathic Medical Foundation
3182 N Swan Road
Tucson, AZ 85712
[ View Google Maps ]
More information:

Tickets: $22 in advance, or $25 at the door
Advance Tickets: https://www.tyburhoe.com/events
Parking: Free and easy parking
We are very excited to bring to Tucson a Classical Music of India concert with Harsh Narayan playing the sarangi accompanied by Ty Burhoe on tabla
Harsh lives in Mumbai, India, and will be coming to Tucson as part of a concert tour of the USA.
About the Artists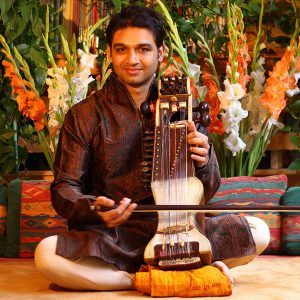 Harsh Narayan is the son of the sarod maestro Pandit Brij Narayan and grandson of sarangi legend Pandit Ram Narayan. Harsh (a traditional Indian name that means "joy") has had the great fortune of studying under his grandfather since the age of 6. He is acknowledged in India and abroad as a phenomenal talent of the new generation of musicians that will carry the rich legacy of the classical music of India and the art of the sarangi into the future.
Harsh has a growing concert schedule, performing both in India and abroad including the UK, Spain, Portugal, and France.
The Sarangi: With a sound that resembles that of the human voice, the sarangi has been mostly used as an accompanying instrument in vocal recitals, but thanks in great part to the efforts of Harsh's grandfather Pandit Ram Narayan, it has reached the status of a solo instrument in the classical Hindustani music.
Yehudi Menuhin, one of the great violinists of the 20th century, said:
The sarangi remains not only the authentic and original Indian bowed instrument but the one which most poignantly in the hands of Ram Narayan most revealingly expresses the very soul of Indian feelings and thought. I cannot separate the sarangi from Ram Narayan, so thoroughly fused are they not only in my memory but in the thought of this sublime dedication of the great musician to an instrument which is no longer archaic because of the matchless way he has made it speak.
---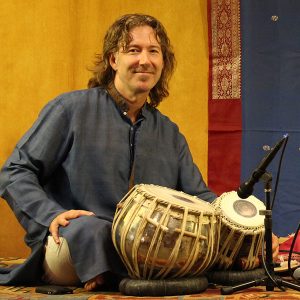 Ty Burhoe plays the tabla, the melodic pair of drums of North India. Ty has been a disciple of the great tabla maestro, Ustad Zakir Hussain, since 1990. From that time forward, Ty has been wholly dedicated to music as a career and as a spiritual path. Known for his sensitive accompaniment, Ty is a sought after tabla artist who frequently collaborates with a wide range of musicians including Art Land, Bela Fleck, Walter Becker, Krishna Das, Steve Oda, Kala Ramnath, Kitaro, Bill Douglas, Bruce Dunlap, among many others.
---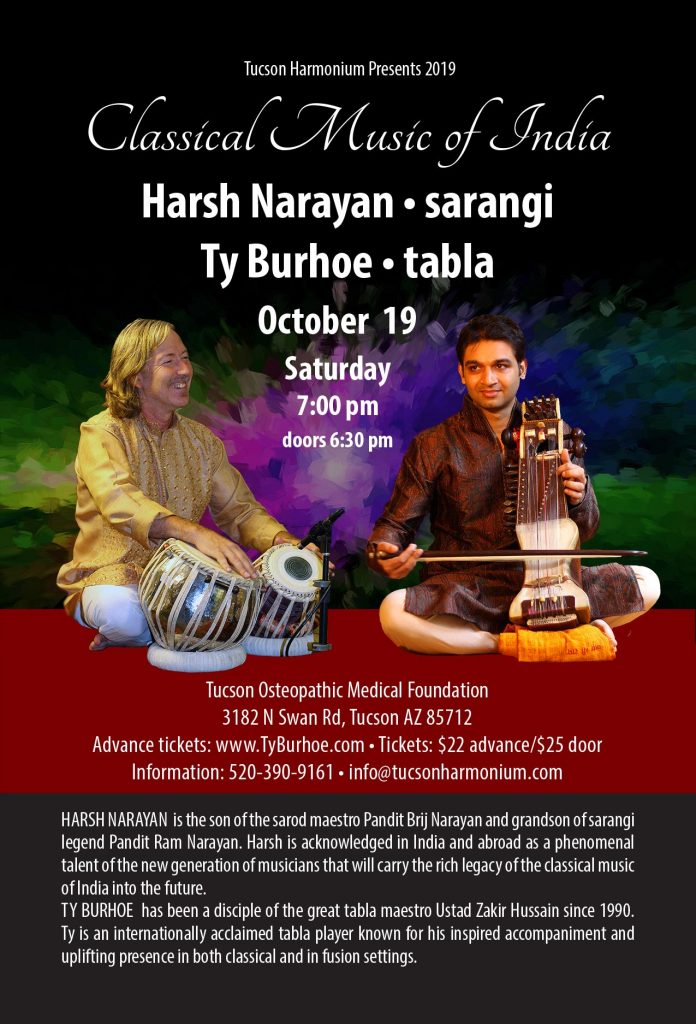 Sign-up for our newsletter to learn about our future events: